Episodes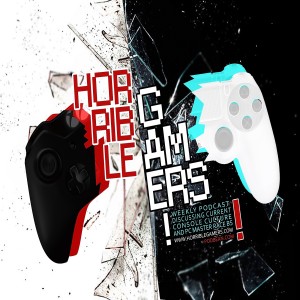 Wednesday Nov 24, 2021
Wednesday Nov 24, 2021
This is in memory of Yodathe3rd. You will forever be missed and we hope you are in gaming heaven with the best set up around! Until we meet again we will keep you in our thoughts.
Original Description:
This week join Jesus, Gunny, and Yodathe3rd as we discuss Call of Duty Modern Warfare, Zombie Army 4, Darksiders Genesis, PC Gaming, with New VR Stuff, Gunny talks about coming home early on a Thursday once... There is some Gaming News and so much more!  
Intro Music by FWLR & Twistex - Breakout (HGP Mix) -http://www.youtube.com/FWLRmusic
Outro Music by Broke For Free- Nightowl -https://youtu.be/9oKl99PEbHw 
Join us in our group on Facebook -https://www.facebook.com/groups/HorribleGamers/
Like our Page -https://www.facebook.com/HorribleGamers/
Follow us on Twitter -https://twitter.com/_Horriblegamers
Discord -https://discord.gg/8bsaxmD
Patreon -https://www.patreon.com/horriblegamers
Follow Jesus on Mixer - www.mixer.com/jesuswalksalot 
If you like the show..Rate and Review It! Special Thanks to Our Patreon Supporters Jesus Loves You!